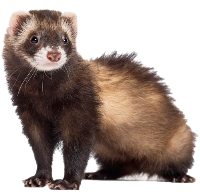 Ferrets are a blast. They are very curious and very playful. You are constantly entertained. One word of advice, they need toys to play with such as tubes they can crawl through. Having more than one Ferret can be a treat as well since they love to play with each other.
Ferrets Come in Many Different Colors
When it comes to domesticated pet ferrets (not to be confused with wild European polecats or North American black-footed ferrets), there is actually only one breed—despite some being referred to as Angora, European, or Standard breeds. Part of the weasel family, the Latin name for the ferrets we care for as pets is Mustela putorius furo, but pet ferrets can vary somewhat in size and come in a variety of different fur colors, lengths, and patterns.